At Jobbio, we want to make hiring as easy as possible. That's why we are always busy adding new features to improve your experience.
This December we have launched a very exciting new integration with Workable.
How does it work?
With this integration, your jobs will automatically populate from your Workable account to the Jobbio channels.
Candidates can then apply for roles through Jobbio. It's super easy and won't affect your current workflow. 
Why should you use it?
This straightforward integration gives you the benefits of your Workable ATS combined with all the premium Jobbio features such as unlimited job posting, talent marketing and employer branding services. It's the best of both.
What does it cost?
Absolutely nothing! Consider it a perk of the platform.
How do I start using the integration?
1. Log into your Jobbio account and visit the 'integrations' section.
2. Grant Jobbio access to your Workable account.
Once enabled, we will automatically pull jobs from your Workable dashboard and distribute them across our exclusive network. It's so simple!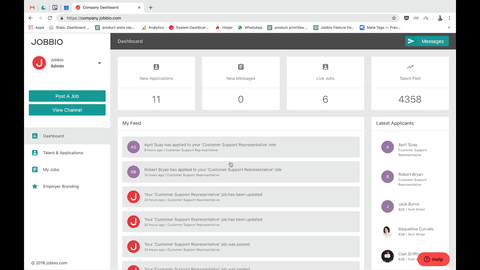 Every candidate that applies will be delivered directly into Workable, so all their information is in one place. It's seamless and hassle-free.
So, what are you waiting for? Get started today.